Year 7 National Final Winners!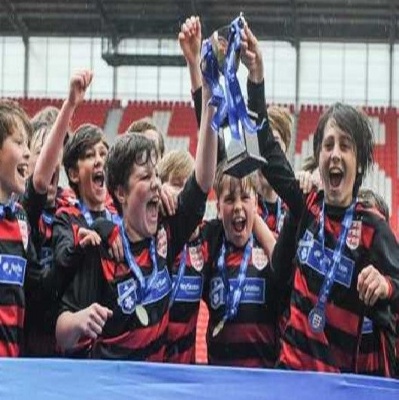 The Year 7 Team Celebrate Their Win!
On 9th May the Year 7 B Team represented the school in the National Cup Final at Stoke City FC.
A smooth journey down the M6 and we were greeted to the Potteries with grey skies and rain. The pitch was in fantastic condition and the stadium imposing. Heenan were granted the home dressing room for the match against Kingsdale Foundation from London.
The game itself was a close affair with Heenan starting well with Kingsdale coming back into the game towards the end of first half and could consider themselves unlucky not to be in front after some great set piece routines.
Not for the first time this season the game was won by our substitutes in the second half with Bobby Connor sending a fantastic through ball into the path of the storming run of Alfie Foy who was denied by the keeper with his first effort but followed up with a low finish.
As the game went on Heenan relied on the counter account as we came under increasing pressure. Reece O' Connor pulled off a fantastic point blank save and with some gutsy defending and cute tactical changes from coach Tony Jones we held on to win the cup.
Big shout out for Charlie Riding who thoroughly deserved to pick up the Man of the Match award. This was not a surprise to us all as he has performed as he did all season. A role model to the entire year group with his tremendous attitude, respect, and a fierce will to win.
All the boys were impeccable in their behaviour both on and off the pitch and a credit to their families and school.
Well done Year 7