Fun and Games at PGL!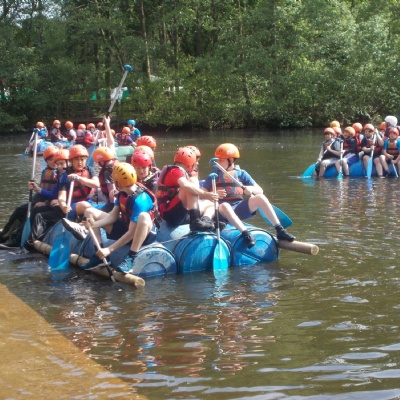 Raft Building and Sailing!
On 24th May 52 Year 7 boys and staff headed off to Boreaton Park in Shropshire for our annual trip to PGL. The long weekend was a fantastic opportunity for the students to get away from the modern day curses of playstations and social media and enjoy taking on the challenges of the great outdoors.
Lots of the boys were able to conquer fears such as heights and going into tunnels with activities such as High Ropes, Zip Wiring, Tunnel trail, Raft Building. It also introduced the students to new activities such as fencing and archery. All the boys were very supportive of each other with lots of team work and encouragement on all chosen activities.
After three nights of fun and late nights the group arrived home on Monday afternoon with many tried, dirty faces and filthy clothes to be picked up by their parents but many great memories brought back too alongside the washing.
Thank you to Mr Pomford, Mrs Stone, Miss Bowker, Miss Burrows, Miss McTague and Tony Jones for giving up their Bank Holiday weekend.