Excellence In Reading Adventure For Year 7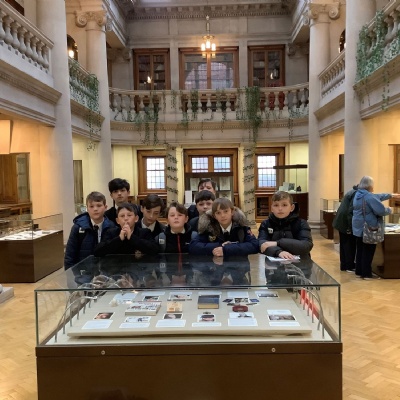 The Year 7 Excellence In Reading Group Visited Liverpool Central Library
Ambassadors for our Excellence in Reading group from Year 7 went on a literary adventure to Liverpool, visiting the Central Library and Waterstones in a bid to find inspiration for new and exciting texts to read.
Whilst out and about the students took part in a treasure hunt of literary classics in the granite walk outside of the library, found the amazing copy of John James Audubon's massive "Birds of America" (named the greatest natural history book ever produced). They saw the great Picton Room and climbed the steps to look at the thousands of books surrounding them and went to the Hornby Room and looked at the Women in Science exhibition. Students looked for answers and discussed the technology in the Hornby Room and on the third floor they looked at how to access records and old newspapers. Students discussed how they could access records which would help them look at the lives of their ancestors. They finished their morning with a trip to Waterstones Liverpool One. All students chose a book so that they can be inspired by the literary titles they had stepped on at Central Library. Happy reading!
Head on over to our galleries section to see more photographs from the trip!