Success for Art Students!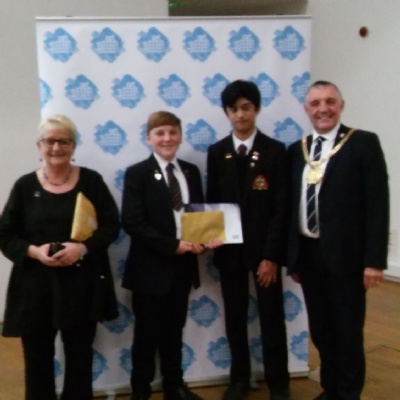 Students Receive Their Prizes at the Dot Art Awards.
Cardinal Heenan students entered our fourth annual Dot Art competition hoping to repeat our success in the first ever competition which was won by former student Michael Walsh who has just finished a BA honours degree in art at Hugh Baird College this year.
15 yr 9 students entered the on line voting with strong entries from James Oliver and Michael Connelly who came second and third for our school. Earl Cabije was the overall winner for our school and will now move on to represent us in an exhibition at Liverpool School of Art and Design starting on the 19th June where the overall winner will be picked by a panel of experts consisting of international visual artist Ryan Gander, Director of the School of Art & Design at Liverpool John Moores University Caroline Wilkinson, Sandra Penketh who has responsibility for National Museums Liverpool's fine and decorative art collections in both the Walker and Lady Lever Art Gallery and overall Judge Susan M Coles who is secretariat to the All Party Parliamentary Group on Art and responsible for the 'Big Draw'.
We think you'll agree Earl has produced an amazing portrait and wish him good luck.
We are extremely proud of all of our students who entered this competition and are wowed by their talent!
Head over to our galleries section on the website to see more photographs from these talented students.