Year 10 Mechanics Workshop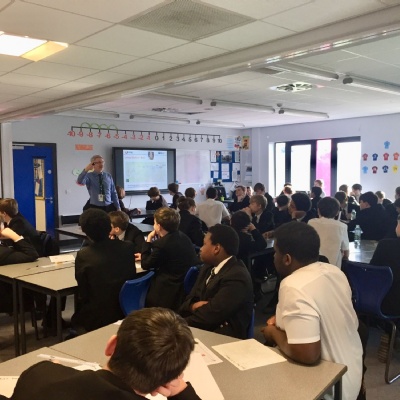 On Wednesday 12th February, students from Year 10 took part in a Mechanics Workshop that looked at using mathematics to solve real life problems.
Martin Bamber from AMSP delivered two mechanics sessions. The students were encouraged to apply the maths they had learned in school to these real life situations. The students worked in groups and were amazed to discover Austrian Felix Baumgartner, who has become the first skydiver to go faster than the speed of sound, reaching a maximum velocity of 833.9mph. Jack (10E1) said about the session: 'It was a great lesson and Martin was boss but the man who fell out of space should have died 800mph is too fast'. Lewis (10E1) thought 'the lesson was enjoyable and fun. I loved talking about the space jump'.
Students then moved onto investigating which would be the fastest mode of transport to travel from one point in London to another. They looked at travelling by car, speed boat, bicycle or public transport and used string to measure the paths that they would need to take. Joe (10E2) found the session 'helpful learning how maths is used throughout life and modern society', and Mikey (10E2) thought 'it was very helpful for me in my other subjects such a geography and business'.
Ben (10E1) said of both sessions 'It was an enjoyable way to understand and learn about how maths can be implemented and gave us real world examples with easy to understand information'.
Martin spoke to the students about studying A Level Mathematics and Further Mathematics and what career pathways need a high level of mathematics. The students thanked Martin for coming in school. We are looking forward to him coming back in March to deliver a session on networks to Year 9 students.
Head over to 'Galleries' to see some pictures from the session.