Sing a Christmas Carol!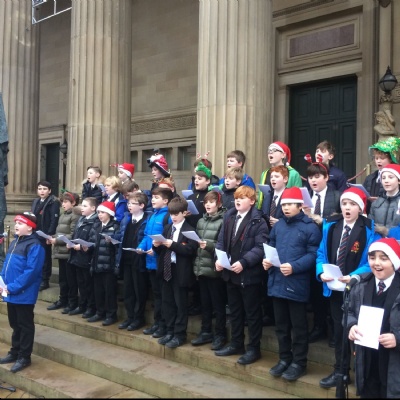 Year 7 Choir Members Singing Outside St George's Hall at the Christmas Markets
On Thursday 21st December the music department took thirty five boys from the year 7 choir to perform at the St George's Hall Christmas Markets. It was a cold day but things quickly warmed up as the choir assembled on the steps to the hall and gave rousing performances ranging from seasonal hits such as Rocking Around the Christmas Tree and I wish It Could Be Christmas Every Day, to pop hits such as Riptide and the Beatles' Golden Slumbers. A crowd quickly gathered and were enthusiastically clapping and cheering each performance and Mr Sanderson said he may even have noticed some dancing! All in all a great afternoon and these young boys did the school proud, thoroughly deserving the many complimentary comments they received as they made their way back to the bus.