Numbers All the Way!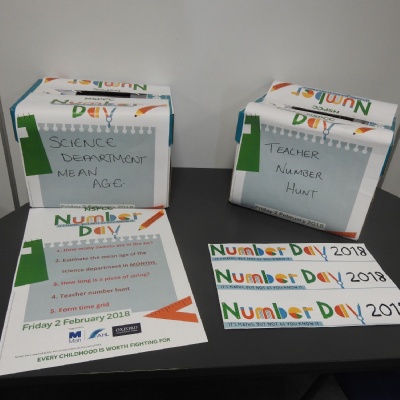 NSPCC Number Day
Following the success of last year's NSPCC Number Day, Cardinal Heenan Catholic High School students and staff have participated in a day of "Maths, but not as we know it!".
A variety of numeracy related activities are being promoted, such as; a teacher number hunt, estimate the mean age of the Science department, how many sweets are in the jar, how long is a piece of string and the form grid mystery number.
Prizes have been secured from Domino's pizza (West Derby), Liverpool One, WH Smith to whom we are extremely grateful, and of course the jar of sweets. All proceeds raised go directly to the NSPCC and as of the end of Friday £225.25 had been raised - watch this space for the final total!
Activities still running are:
Estimate the mean age of the science department (50 p per entry) The prize for this is a £10 Liverpool One voucher.
Teacher Number Hunt (20 per entry) The prize for this is a £10 Liverpool One voucher.
Entries will be selected at random on Tuesday evening.
Winners of some of the competitions on the day were:
Anthony Weston (Year 9) who won the How long is the piece of string challenge with an estimate of 1000cm (998cm)
Alfie Cunningham (Year 7) and Tom McCarthy (Year 11) were closest to the winning Guess the amount of sweets in the jar challenge (they decided to split the prize) (141 sweets)
Stephen Bennett (Year 8) won the form time mystery number competition. (Won a Liverpool One Voucher)
Current competitions are being run at Parent's Evenings and a £50.00 supermarket voucher is up for grabs to the winning entry of the Parent Student Numeracy Challenge. The winner of this will be informed on 23/03/2018 so please make sure you complete and submit your entry!