The Future Is Ours!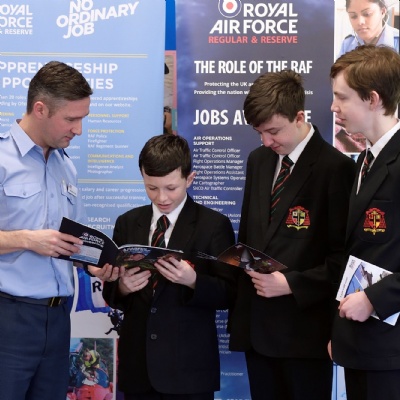 The Raf Was Just One of over 40 Providers to Speak to Students at Industry Day
"Equipping students for jobs of the future, with all options available including applying for apprenticeships, jobs and places at Universities." This is one of the many things that impressed Stephen Twigg, MP for West Derby, who spoke passionately about the fantastic work of Cardinal Heenan Catholic High School's industry day. Mr Twigg, who has supported the work of the school for over ten years, talked further about how the way the school approached industry day was something not many schools did.
However, as Mr Twigg highlighted, not all students will want to go to University and Cardinal Heenan Catholic High School ensure all options are open. Information and guidance is key and this is given from the moment the students step into the building on their first day in Year 7. Work related learning is a strength of the school and the industry day is part of this journey in supporting our students on their career path.
Providers came from a range of careers. From accountants to astrophycisits, car mechanics to chemists, surgeons to sports related careers - nothing is out of reach if the students' vocations are there. The school takes great pride in each and every member of the community and celebrates all success. Many of the providers were ex students and were keen to return to share their experience and advice.
Parents who attended on the day commented that they wished they had been given this opportunity and advice when they were at school and how it had really opened their eyes to what is out there now for their sons. There was a great deal of appreciation from both students and parents for the incredible guidance and support, with many positive comments about how much had been gained from the experience.
The range of providers and the engagement with families was fantastic and Mr Twigg spoke finally about how the school works hard to raise the aspirations of their students, including engaging with Mr Twigg's Liverpool to Oxbridge Collaborative. This is designed to encourage more students from the area to consider applying to Oxford and Cambridge Universities, and with Cardinal Heenan having two students start at Cambridge in September 2017 and a further student securing an offer for a place there in September 2018, the future is bright!