A level Art students exhibit at the Tate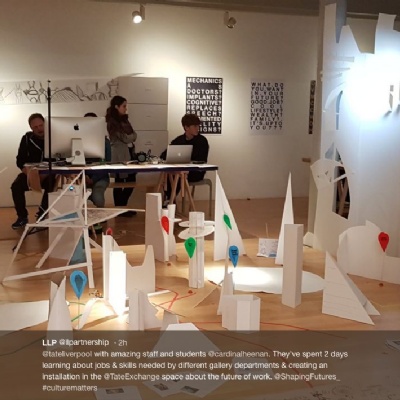 Students Created a Series of Digital, 2D,3D Interactive Installation Pieces
A level Fine Art & Graphics students from Cardinal Heenan Catholic High School have been showing of their talents at the Tate Liverpool. They are involved in a piece of work where all students worked alongside an artist and created a large artwork in and for the Tate audience. The students created a series of digital, 2D,3D interactive installation pieces.
--- Click to view the Gallery ---
Day one was exciting and fast paced, with lots of activity in different small groups involving film making, animation, poster designing and construction too. The second day the group focused on working in the gallery itself and setting up the pieces creating a large scale installation. The theme was Future landscapes.
Don't miss this fabulous exhibition at the Tate - a great outing for half-term!