Year 9 on a Mission!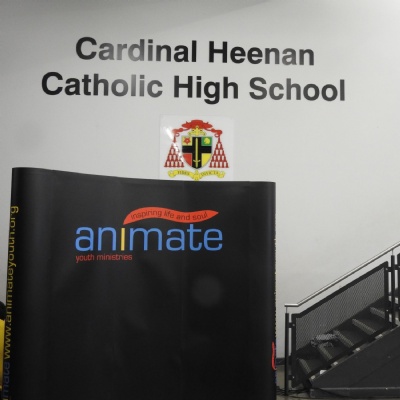 Year 9 Mission Days With Animate Youth Ministries on the Theme of "Preparing for the Future".
Cardinal Heenan Catholic High School welcomed the Archdiocesan youth team, Animate, for two days this week to work with our Year 9 students. Following on from successful retreat days with the team for these students last year when they were in Year 8, the team came to challenge the students about their future. Based on the passage from Proverbs (19:20-21):
Listen to advice and accept discipline,
and at the end you will be counted among the wise.
Many are the plans in a person's heart,
but it is the Lord's purpose that prevails.
students spent time as a large group, and then in smaller working groups, exploring how they might live this out in their own lives. Through workshops, drama, games and prayer there was plenty of opportunity to reflect, question and learn about how we can work with each other in different ways to make our lives and the lives of others better. Students were able to spend time thinking about how their faith helps to guide them in their actions and decisions and how important it is to be open to the guidance of God, working through those around us.
There was time for fun and laughter too, with some amazing skills demonstrated by students including those willing to get up on the stage and act and through some great efforts in a few rounds of tug of war!
We are extremely grateful to the Animate team for sharing their time and talents with us and if you want to see more of what went on, please head over to our Galleries page and see some photographs from the Mission Days!
More information about the work of Animate can be found here:
www.animateyouth.org