Claire Bear Serves Up the Pies!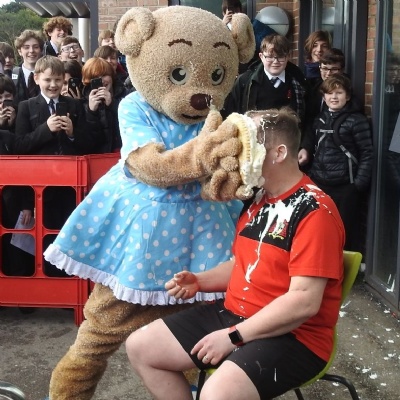 Mr Forgie Takes One for the Team!
As part of our events to mark "Pi Day" on 14th March, several of our staff nominated themselves to be in the running to have a cream pie in their face by Claire House's own Claire Bear! This was done by each staff member who had put their name forward having a donation bucket each that students and staff could put money in. The staff member who raised the most was the one who got pied!
It turned out that TWO of our staff raised exactly the same amount of money and as well as Mr Forgie being splatted, Miss McCreesh also showed what a good sport she was too when she was served her cream pie in the face by Claire Bear.
Thank you to everyone who donated to this important cause and who raised over £270 for Claire House and especially to our numeracy co-ordinators Miss McCabe and Miss Tisdale for organising such a fabulous event. A big thank you also goes to our kitchen staff who served some amazing pies on Pi Day for lunch!
Head on over to our Galleries page on the latest news section to see more photos from Pi Day and Claire Bear splatting our staff!