Pure Maths!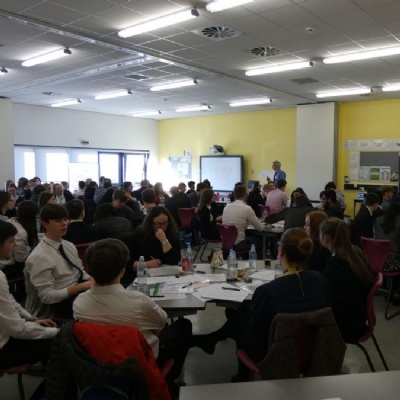 Revision Event for Students of First Year A' Level Pure Mathematics
On Tuesday 20th February 2018, Cardinal Heenan and Broughton Hall jointly hosted a 'booster' / revision event for students of First-Year A-Level Pure Mathematics in the joint sixth form area. This included a large number of Year 12 students, and 4 Year 13 students who are re-sitting this summer. Overall, the sessions were excellent in enabling the students to develop and enhance their problem-solving skills.
The event was presented by Martin Bamber and Sue Harkness who work at various universities in the city, and was supported by associate (trainee) teachers from Chester University. Students worked in small groups on a range of problems and activities designed to boost their understanding of the techniques and concepts they have studied. By helping students in this way, we hope to enable them to take charge of their own revision and identify key areas that will require further attention as the examination approaches.
The Sixth Form catering team did a splendid job in providing tea, coffee, water, juice and refreshments throughout the day – the cakes went down a treat!
The feedback from the students, associate teachers, presenters and staff from the visiting schools was extremely positive. This is the third consecutive year we have been asked to host the event, and this shows the commitment to both schools' mathematics departments in encouraging students to engage in extra-curricular programs.
"A good range of topics studied. I now feel a lot more confident in how to adapt what I know to solve complicated problems." (Year 12 student)
"There were some really good exam techniques talked about which will help me in the summer." (Year 13 student)
"The venue was excellent, tea/coffee and cakes all day were great. A really nice day for the students to enjoy." (Visiting maths teacher)