Year 7 Cup Winners!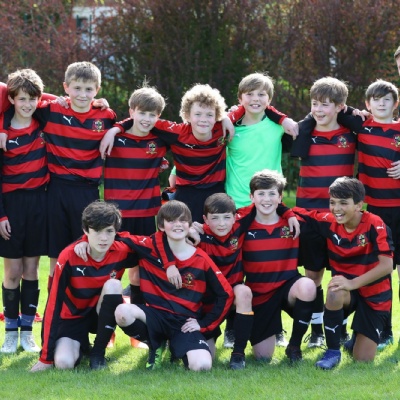 The year seven football team met Bluecoat School in the final of the Liverpool cup.
From the kick-off it was obvious that the Bluecoat team had a clear advantage in size over the Cardinal Heenan opposition, with three or four players approaching the 6ft mark.
The Cardinal Heenan team started brightly and a cross from the right wing saw Nathan Anderson strike the ball beautifully on the volley to hit the crossbar. At the other end Daniel Mayer was controlling the pacy Bluecoat team attack.
Bluecoat were awarded a free kick inside the Cardinal Heenan half and it was a good delivery so the Bluecoat midfielder had a free chance to score against the run of play.
This seemed to spur Cardinal Heenan into life. Matthew Apter and Bobby Lynch were gaining control of the midfield battle. A pass wide to Jude Holman saw him cut inside on his left foot and float a shot into the far top corner to equalise for Cardinal Heenan.
The ever busy Joel Skillen was causing problems all over the Bluecoat defence. And despite a couple of chances Cardinal Heenan were unlucky to go in at half-time 1-1 and not leading although an excellent double save from Harry Campbell also kept the scores level.
The dominant play continued in the second half for Cardinal Heenan and Bluecoat tried to counter attack where possible. With 10 minutes to go Matthew Apter vollied an stoppable shot into the top right hand corner of the net to give Cardinal Heenan a 2-1 lead.
Cardinal Heenan continued to press for another goal and the final goal came with five minutes to go with the man of the match Matthew Apter scoring his second goal into the opposite top corner.
Coach Mr Forgie said that he was very proud of the way his team had worked and they were a credit to the school.