Year 10 Victory!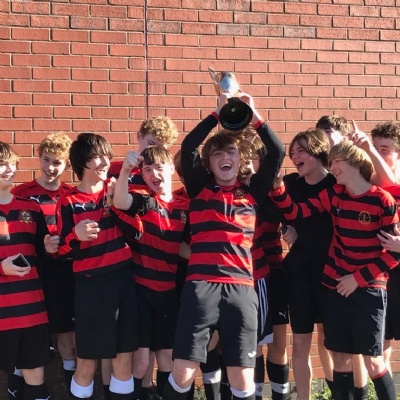 The Year 10 Football Team Celebrate Winning the Final of the Liverpool Cup.
The Year 10 Football Team played St. Margret's School in the final of the Liverpool Cup Final at Walton Hall Park. From the start it was clear Cardinal Heenan would be up against tough competition as St. Margret's team had defeated SFX in their previous round. Their size and physicality was a huge advantage over the Cardinal Heenan team.
Cardinal Heenan started the game well controlling possession and looking to find gaps through a well-structured defence. Early chances for Robert Apter who played striker with Jack Williams went narrowly wide. Throughout the first half Jake Rooney was exceptional and described as a 'Rolls Royce' by other members of the Cardinal Heenan PE Team.
At the start of the second half the Cardinal Heenan team gave away a free kick against the run of play which St. Margret's managed to capitalize on, scoring a good headed goal. This was one of their only chances due to the back four of Ben Radcliffe, Tom Ronan, Joe Cunningham and Layton Lee controlling their attack.
The Cardinal Heenan team continued to play excellent football but struggled to find gaps in their sturdy defence. With 25 minutes left , coach Mr Aspinall brought Harry Cox on off the bench who changed the game, putting a ball into the box which resulted in a penalty to Cardinal Heenan. Robert Apter stepped forward confidently to take the penalty and scored making it 1-1 with 15 minutes to go.
From this point forward the Cardinal Heenan team played with excellent intensity and great determination. This resulted in another goal with 5 minutes to go. Joe Stevenson crossed the ball and unfortunately one of the St Margret's defenders deflected the ball into the goal.
Under the leadership of Tom Ronan the Cardinal Heenan team showed great determination and fight to get back into the game and go on to win. Mr Aspinall said that he was proud of the whole team and is very hopeful the team can continue this excellent form in the Merseyside Cup.