Year 9 Champions!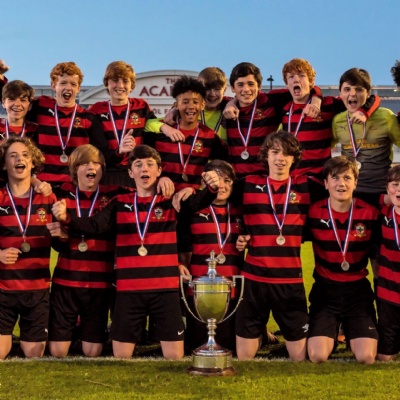 Year 9 Celebrate Winning the Echo Cup
Cardinal Heenan lifted the Echo Cup for a magnificent seventh time at Liverpool FC's Academy on Monday night.
But first time finalists Litherland High underlined their status as a growing force in junior football with a spirited display before succumbing to Cardinal Heenan's slick and penetrating passing football.
This was the 66th staging of the prestigious trophy, which has been lifted by some of Merseyside's greatest football names.
Ross Barkley covered every blade of grass on the pitch for Broadgreen High School who beat All Saints 3-1 in the 2008 final.
Gary Ablett, who won the FA Cup for Everton and Liverpool, played in an Echo Cup final for St Margaret's, in 1979.
Jack Rodwell was Birkdale's inspiration in 2005, Chris Lawler played in the 1958 final at Melwood, Everton legend Mick Lyons for De La Salle in the 1966 final – in opposition to a future Liverpool European Cup winner David Johnson.
And another European Cup winner, Sammy Lee, played in the 1973 final, while former Tranmere favourite Ian Nolan played in the 1984 final.
This year Cardinal Heenan captain Patrick Gamble was the proud player to lift the old trophy on the final whistle.
The final was staged at Liverpool FC's impressive Academy for the first time, and over the decades the Reds have played a major role in supporting the final.
It has been staged eight times at Anfield, including the first three, and twice at Melwood.
Goodison Park and Prenton Park have also been regular hosts of the final, while Cardinal Heenan's last triumph was at the home of Widnes RLFC in 2015.
The West Derby High School needed two penalty shoot-out successes to reach this season's final, but were in a hurry to clinch the final in normal time.
After a tight opening half-hour Tony Weston's pace got him into a shooting position and his composure matched his speed as he fired under Litherland keeper Kian Dacey.
That was a rare goalscoring opportunity in a tight half, with Harry Pike breaking up things in midfield for Litherland and Cardinal Heenan sticking diligently to their neat two-touch passing game.
The decisive second came from a corner early in the second half when the ball broke loose in the six-yard box and Harrison Donnelly prodded home from close range.
As Litherland committed more and more bodies forward in a bid to pull back the deficit they left themselves exposed and Chris Sze took advantage to fire a third.
Litherland keeper Dacey proved a rock for the first-time finalists. Neither flashy nor spectacular, ne made a number of significant stops to keep his side in with a chance until Paddy Maddox Marsden finally put the result beyond doubt in the dying minutes.
The scoreline looked wide, but Litherland more than played their part in a fine final.
Cardinal Heenan: Jack Wright, Connor Goulden, Wade Donnelly, Patrick Gamble, Michael Daley, Harrison Donnelly, Oliver Duncan, Clayton Au Chendo, Jack Burke, Tony Weston, Paddy Maddox Marsen, Frankie Wareing, david Walsh, Mackenzie Hilton, Alex Tickle, Jack Hayes, Chris Sze. Managers: Mr N O'Hare and Miss L Johnson