West Derby Celebration of Faith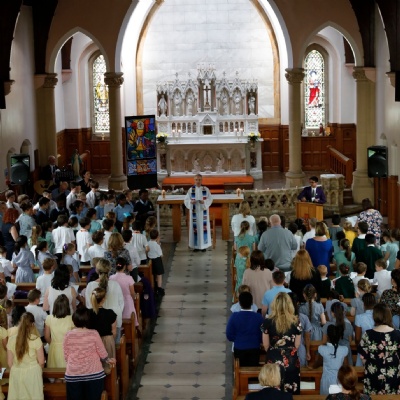 Pupils and staff from the West Derby Learning Network of Faith celebrate Mass together
On Thursday 24th May, Fr Ian McParland led the celebration of the annual West Derby Learning Network Mass for the Catholic Primary schools in West Derby, along with their feeder secondary schools Cardinal Heenan and Broughton Hall, at the chapel in St. Vincent's School for the Visually Impaired.
The theme of the Mass this year was 'We are the Body of Christ' to tie in with Adoremus Eucharistic Conference in September. Each school completed a piece of a picture which was processed forward during the opening hymn and put together to make a 6 foot representation of the bread and wine. Each school is going to receive a copy of the completed picture to display in school next academic year.
It was a wonderful celebration and a great opportunity for the schools to come together as a family, with each school having an active role in the Mass: from reading, to writing prayers, and providing the music.