Year 7 PGL-tastic!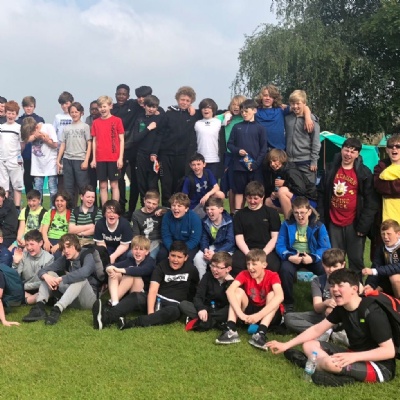 On Friday 25th May, some of our Year 7 students set off for an activity weekend at PGL. Read on to find out what Mrs Quirk, Head of Year 7, experienced and some quotes from some of the students who went too:
"58 boys and 9 staff took off to PGL Boreatton Park on a damp Friday 25th May. We arrived in torrential rain, lost everything instantly and ran off to take part in our first adventures of the day – tunnel trails and Jacob's ladder. We all came back in one piece to some soggy tents and then played relay races and games until sheets had dried and the staff had had a good go at eating all of Harvey's birthday cake.
The next morning we all went kayaking. The sun decided to smile on us a little and there was great fun and hilarity as all the kayaks mysteriously took it upon themselves to capsize repeatedly. The instructors loved this. Climbing and zipwiring continued before a huge game of capture the flag and football whilst some of us tried to watch the final on the field and have some peace. Peace is hard…
General mischief making and sweet eating was the order of the evening before the boys were replaced back into their beds for the 200th time to settle down in everybody else's sleeping bags. (Jack decided to share with us at 11pm that he had been using a selection of towels as blankets and he was cold. We resolved this.)
Sunday was a very exciting day. Archery and giant swinging was going well until an almighty thunder storm broke overhead - cue screaming and chaos (and that was just the teachers). We were evacuated to the mansion house as lightening had struck a nearby field and it was deemed too dangerous to remain holding metal things in the middle of it all. The boys were upset that this encroached into their gift shop allocated slot. The teachers were mostly wet and dejected. Some of us just wanted a glass of wine and a log fire.
Luckily, all was well. We recovered all the phones that had been left on charge in the middle of the field in the torrential rain and finished the day off with a bit of tent tidying and football. Rory amused the boys with his impressions of his Heads of Year…in front of us.
The boys and all the staff had a great time away. We had lots of laughs and it was so rewarding to see boys taking on challenges and pushing themselves through their fears to do high rope obstacle courses despite trembling legs and lips!
Objectives of trip: to encourage team work and year group bonding
Lessons learnt: If you pour water through the back of the tent ventilation hole, Mr Melia's things get wet and he gets angry."
What the students had to say:
"Very fun and very cool! I enjoyed doing archery and I liked doing the activities in the evening."
"PGL was the best weekend ever! I made new friends, had lots of fun and more."
"It was so fun and everybody had a great time. My favourite was the giant swing."
"I really enjoyed PGL because the activities were amazing and I got to challenge myself on high ropes which was my favourite."
"I found the experience very fun. I really liked the zipwire."