Shining A' Level Talent Exhibited!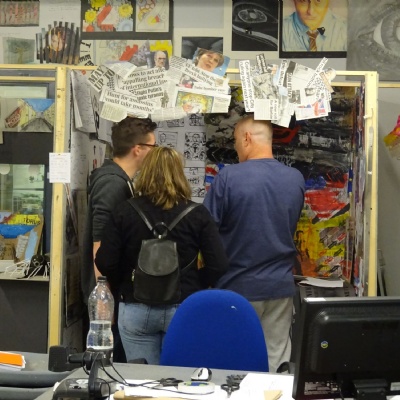 A Level Fine Art and Graphic Communication Students Displayed Their Work at Their End of Year Exhibition
Another successful year for our A level Fine Art & Graphic Communication students celebrating with their end of year Exhibition.
A wonderful experience for friends, family staff and students to share in the exciting work undertaken during our exhibition preview last Tuesday evening in G9, our specialist 6th form art studio.
A broad range of outcomes and methods were undertaken by our students to express their chosen pathways including animations, a two year blog, many creative design sheets and 3D models.
This year live briefs were undertaken by the Graphic Communication group for a rebranding of the BBC Big Weekend event. Formal presentations at FACT in Liverpool were given by our students to the producers and directors from the BBC and ITV at Media City in Salford. An outstanding competition brief that our boys came in at 1st place.

Another live brief from Tate gallery Liverpool allowed all of our creative students to work and exhibit at the Tate for two days - what an opportunity!
Throughout the two years we have visited a wide variety of galleries and spectacular gardens on Merseyside as well as our annual London Creative arts trip which informed all of the students.
Mrs McDonald-Holmes, Mr Dougan, Mrs Gillmore and Mr Murphy wish our fantastic creative students a bright and wondrous future in their respective pathways in Architecture and engineering at University.
Head over to our galleries section of the website to see more of their amazing work.