A Level Results Day Brings Lots of Smiles!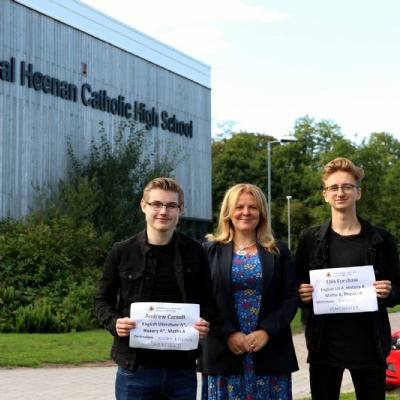 Andrew Carroll and Ellis Forshaw With Headteacher Karen Smyth
Thursday 16th August 2018 saw many happy faces and celebrations at school as students collected their A level results.
Andrew Carroll achieved A*, A, A, allowing him to go to Sheffield University to study for a degree in History and Politics. Ellis Forshaw achieved A, A, A, A and will be attending Manchester University to study for a degree in Physics. We are also revelling in the great news that Ryan Stewart successfully achieved the results needed to take his place at Cambridge University to study Politics. In the last three years Cardinal Heenan Catholic High School has been responsible for 50% of the pupils from the West Derby group of schools achieving places at Oxbridge. We are proud of all our students and staff for the results achieved by all and we wish those heading to either university, apprenticeships or the workplace much luck for the future. We look forward to hearing how you are all getting on.
Head over to our galleries section on the website to view more photographs from A level results day.