Year 7 Mass of Celebration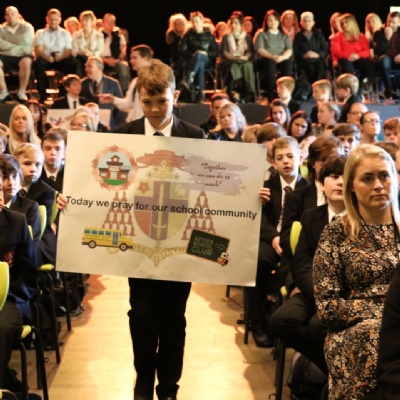 Parents, Students and Staff Gathered Together to Celebrate the End of the First Half-Term for Year 7
The Year 7 Mass of Celebration on the last day of the half-term was a mixture of prayer, reflection, smiles and laughter and even sign language. Every student was given the opportunity to be involved in what was a time of great joy and recognition of all that has been achieved, learned and experienced during the preceding 7 weeks.
Fr Ian McParland from St Margaret Mary's Parish led the celebration and shared his own experience of being a former pupil of the school. He encouraged the students to make the most of their time at school and to share the God given gifts and talents they have to help those around them. Inspired by the readings taken from Philippians 4, "I can do all things through Him who strengthens me", and the Gospel from Matthew 22, "Love the Lord your God with all your heart", Fr Ian reminded the students that they were not alone and that God was always walking with them each and every day.
It was wonderful to see so many parents and carers joining students and staff for the celebration and we look forward to another successful half-term in the run up to Christmas.
Head over to our galleries page to see more photographs from the celebration.