Singing Loud and Proud!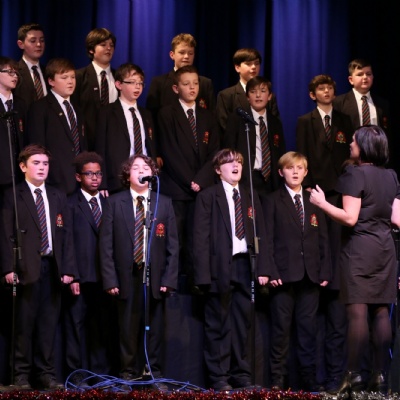 Students Performing at the Choir Competition
Nine schools took part in the Catholic Schools' Choir Competition which was hosted at Cardinal Heenan Catholic High School this year. Choirs from St Bede's, Ormskirk, Notre Dame, Liverpool, St Julie's, Liverpool, De La Salle, St Helens, Archbishop Beck, Liverpool, Bellerive, Liverpool, St Mary's, Astley and St John Bosco, Liverpool. Each choir performed two pieces of music in front of an audience and a panel of judges which included Dr McElroy from Liverpool's Metropolitan Cathedral. The judges praised all choirs highly after the performances before announcing St Bede's as the overall winners. Our own students at Cardinal Heenan performed "God Rest Ye Merry Gentlemen" and "Barbed Wire" as their pieces and did so with great enthusaism and energy with some wonderful solo performances. Well done to all involved, we are very proud of you!
Head over to our Galleries section for more images from the event.