Hey Scrooge!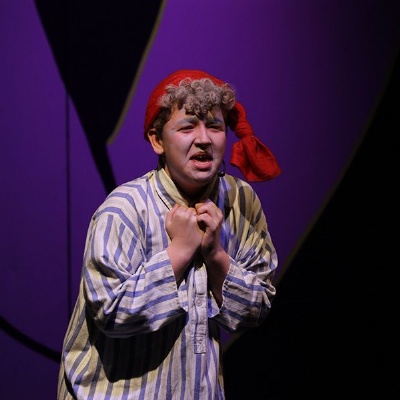 Shea McGinn Stars As Scrooge
The Drama Departments decided to celebrate the 100th birthday of A Christmas Carol and 50 years since The White Album by making their main performance this academic year Hey Scrooge. This was an adaptation of a Christmas Carol with a soundtrack from The Beatles. Auditions were well attended and, with a great amount of difficulty due to the amount of talent displayed by our pupils, parts were finally allocated. The cast worked extremely hard over 3 months to develop engaging characters and scenes and the end result was a credit to all of their efforts. The four shows were polished and professional gaining a fantastic response from audiences both young and old!
The actors were supported by an organised and motivated back stage crew including pupils being responsible for stage management, lighting sound, marketing and front of house.
Miss Jones, Head of Drama and director of the play, is delighted with the performance and the talent of our students. "Some of my favourite moments were the audiences reaction to our Marley's and Ghosts and the warm atmosphere created by our Cratchett Family! (The whole cast Macarena backstage was also a highlight!) We were supported by an excellent band of musicians from year 13 who provided a live soundtrack and interacted with a variety of scenes. They ran the music rehearsals and dress rehearsals themselves and ensured that they were as professional as our performers. A special mention goes to Shea McGinn who's portrayal of Scrooge for the whole 2 hours was sensational and way above a year 11 performance standard."
A huge thank you to all parents pupils and staff for supporting the event! The drama department are looking forward to planning next year's play so watch this space!
Head over to the Galleries section of the website to see more images from the performances!