Coding Competition!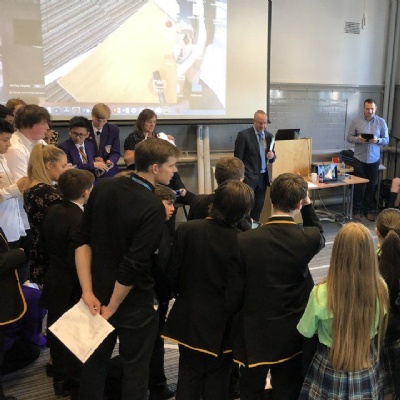 Students From Schools Across the City Gathered to Experience Using Code to Programme Both a Drone and a Sphero Robot
4 Year 8 boys were selected to take part in a coding challenge in Toxteth Annexe Conference Centre in Liverpool on Friday 29th March 2019. They were required to use code to programme a drone and a Sphero robot in order to complete a range of complex tasks. The boys took to their challenge with ease and worked exceptionally well as a team in order to achieve the maximum points they could in each challenge. They used innovative solutions, which had never been considered by any team before, much to the amazement of the challenge co-ordinator. Drew Williams in particular impressed the event organisers and won a separate prize at the end of the day for his remarkable problem solving skills. The boys performed so well at the challenge that they won a drone for the school.
Congratulations to all involved and thank you to Miss Keenan for organising to take the students along and working with them.