Sixth Form
Online application form now open for joining our Sixth Form in September 2020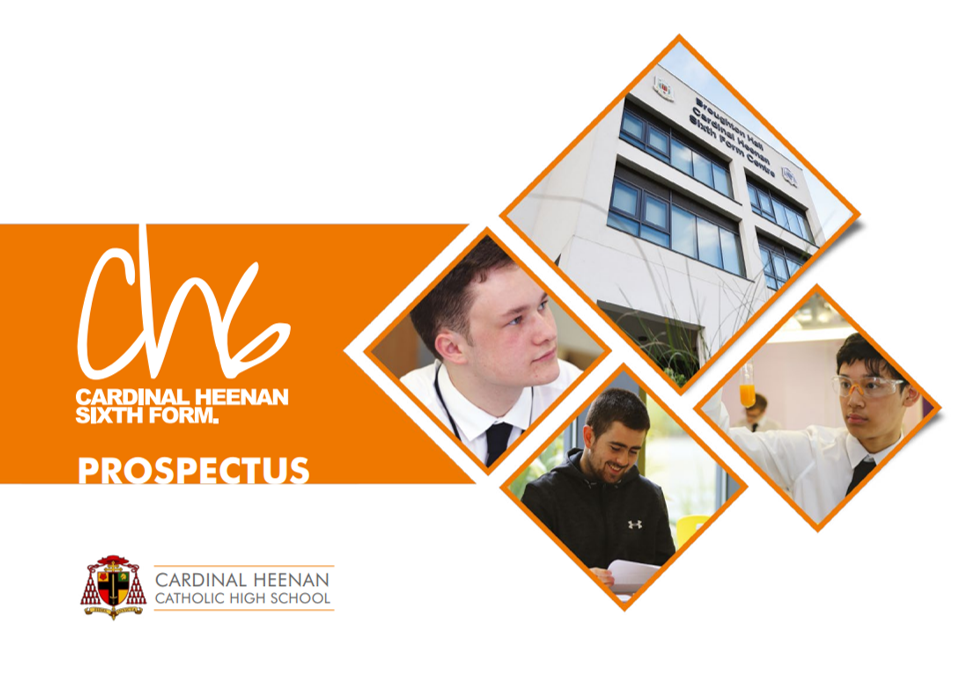 ---
Prospective Students - Project Work
The school has set project work for current Year 11 students for each subject in the Sixth Form. Students should complete the project work for those subjects they are hoping to study. It's completion will be an important deciding factor as to whether particular courses are suitable for students.
This work is available on Class Charts - if it is a subject that is not normally studied in Year 11 (for example, Psychology, Criminology, etc) the work has been made available as part of the English subject work. Students that are not currently at Cardinal Heenan can access the projects (all subjects in a zip folder) by clicking here.
Cardinal Heenan students must email project work to either their class teacher for the subject or Ms McCabe (a.mccabe@cardinal-heenan.org.uk). Students from other schools can submit work to the same email address. The deadline for all project work to be completed is yet to be decided, though it is likely to be some time in July.
---
"I've really enjoyed the independence of sixth form. The environment created encourages me to work independently during my study periods."
"The career guidance I have received has made me keenly aware of the opportunities available to me for a life after sixth form."
"The university style of studying and learning prepared us for higher education and employment."
"Lessons are really interesting and due to the number of lessons a week my learning is supported."
Cardinal Heenan operates from a purpose-built Sixth Form Centre which we share with our neighbours, Broughton Hall High School.
It opened in September 2012 and features first-class facilities including science labs, ICT suites, quiet study areas and a large canteen.
We aim to create a friendly, safe and supportive environment where all of our students enjoy an excellent standard of teaching, access to a wide and challenging choice of courses and the guidance needed to ensure success.
We also offer a programme of exciting and engaging enrichment activities.
Entry to our Sixth Form is open to students who have a genuine wish to continue their education beyond the age of 16. They are expected to fulfil the relevant course entry requirements and must sign a contract prior to admission.
We offer a wide range of academic and vocational subjects and take pride in our consistently strong results. Our most recent Ofsted report rated the sixth form as good, where "learners…achieve well and the provision is very well led and managed.
We encourage our students to continue into further and higher education, training or employment and support them whilst they are with us to make the best possible choices and decisions for their future.