Year 11 Victory In The Merseyside Cup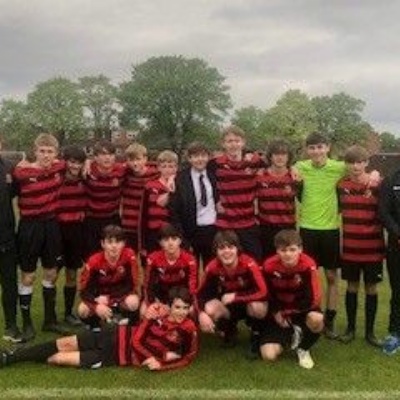 The Year 11 Team Celebrate Winning The Merseyside Cup
Mr Aspinall and Mr Townson report on another triumph for Year 11:
After another successful season where the Year 11s once again managed to win another trophy, in National Competitions the team reached the Quarter Finals of the National Elite Cup and the Last 16 of the National Cup where we had some excellent performances beating Wright Robinson 8-2. We had numerous new players step into the team and show great skill and dedication to the team.
After we narrowly lost both national cups the team was able to concentrate defending both the Liverpool and Merseyside Cups. We made it through to the final of the Liverpool Cup first where we came across SFX who over recent years have been our main rivals. After a brilliant game, where we played attractive football and dominated possession, we unfortunately lost 2-1, with the winning goal being an exceptional shot from the right winger (SFX) with only 5 minutes of the game left.
It was tough to pick the boys up from a loss like this after playing so well but we didn't have time to dwell on the previous game as only a week later was the Merseyside Cup and the Year 11s final game for Cardinal Heenan.
The game was played at Liverpool University Grounds and the pitch was in perfect condition, which suited our style of play. After a slightly nervous first 5 minutes the boys started to settle down and kept possession well with Jake Rooney distributing the ball excellently. Over the next 15 minutes we played some exceptional football but couldn't seem to find the back of the net. After 25 minutes we managed to get the break through with an excellent team goal which was finished by Jake Rooney, after this we managed to continue our attacking play and scored some excellent goals from Rob Apter, Kian Fyles, Jack Williams and Harry Cox. The game finished 5-1 and was an excellent way to finish a fantastic 5 years for the team.
There has to be a special mention to Tom Ronan who has captained the pupils over the last 3 years and has demonstrated great leadership skills, always leading from the front. It has been a pleasure to have him as captain. Also we wish all the pupils who have played for Cardinal Heenan over the past years all the best with their football endeavours with a number of pupils receiving scholarships and continuing their education at football clubs; Jack Williams (Oldham), Jake Rooney (Burnley) Finn Armstrong (Burnley), Corey Brennan (Burnley), Marcus Snell (Wigan).