Gold Award For Numeracy!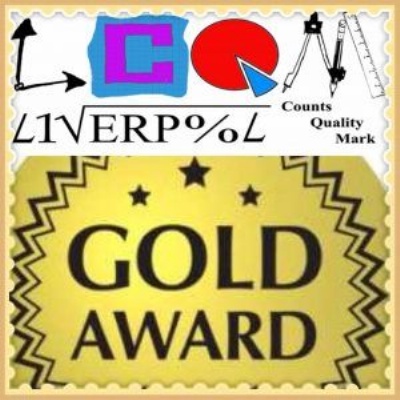 The Liverpool Counts Quality Mark Gold Award
We are delighted to say that on 5th July 2019 we were awarded Liverpool Counts Quality Mark GOLD award in Numeracy! Thank you to all pupils, staff, parents and governors who made this fantastic achievement possible. A special thanks to Miss Tisdale and the numeracy committee who have worked so hard to co-ordinate events across the school.
Some of comments made in the report by the assessor were as follows:
The work of the Maths Champion was key in driving forward many of the QM criteria with consistency and enthusiasm. The co-ordinator had regularly kept the key figures informed of the progress of the QM and their responsibilities in supporting her and the Numeracy Committee.
The ethos of the LCQM was firmly embedded in the school and aspects of Key Theme 6 were being further developed in order to strengthen links with the local community.
The introduction and monitoring of the work of the Numeracy Links in other departments had provided a strong platform for supporting the work of the Maths Champion and the Numeracy Committee
The LCQM had strengthened and developed problem solving skills. It had also provided direction for more challenging and engaging maths tasks within a fun environment.
The Teacher Governor was kept well informed of the progress of the LCQM. The Governing Body also benefited from having a governor with the key role of liaising with the Maths Department and feeding back to the GB.
This group talked confidently and enthusiastically about the impact the LCQM was having on many aspects of teaching and learning and the evidence given supported and strengthened those criteria which moved the original Silver Award towards Gold.
Once again, congratulations to all involved on such an amazing achievement!