BBC Bitesize School Tour 2020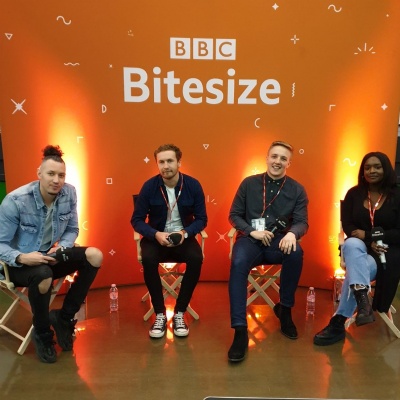 Cardinal Heenan had an amazing opportunity to host BBC Bitesize Schools Tour last week with our Year 7, 8, 9 and 10 students all about their future and careers.
It was great to see such an inspiring project that sees the BBC Bitesize team take to the road to deliver a series of 1-hour career sessions to secondary school children. Our hall was set up like a 'Question Time' style setup featuring a panel of 3 professionals that had a career within the creative industry.
The event was hosted by Nick Bright who is a British Radio and television presenter. He currently hosts Saturday mid mornings on BBC Radio 1Xtra, The Squad on BBC Radio 5 Live, Sundays at midday, numerous different projects for BBC Sport and the Arsenal Matchday Show.
The aim of the event was to offer students an insight into the world of work and shine a light on routes into and opportunities within a sector that many of the pupils might not have considered. Students also participated in a Q&A session where they got the chance to learn more about the creative industry and about future jobs.
The first panellist from the creative industry was Joe Lovelace, a PR Officer for Everton FC. Joe manages PR activity at the club and player appearance events, along with delivering the clubs overall PR plan. The second professional was Sean Wise an editor assistant for The Garden Productions and has worked on projects such as the Pets Factor and 24 Hours in A&E. Finally, our third panellist was Ivy Kalungi, an Artist from Northern Ireland. Her cultural identity has become hybrid. She fuses subconscious memories of Uganda with Northern Ireland and makes wonderful pieces of art for pop up and output galleries all over the UK.
Have a look at the gallery for some images from the day.