Winners Are Grinners!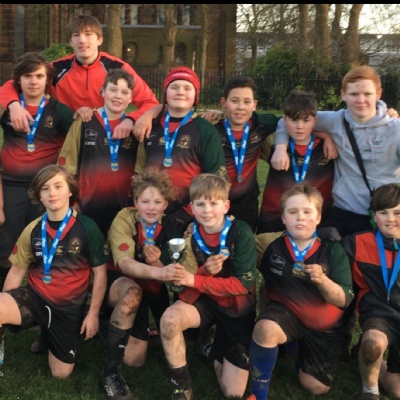 The Year 7 Rugby Team Celebrating Winning at the Season's Second Development Tournament
Cardinal Heenan Year 7 rugby team picked up their first piece of silverware at the season's second development tournament at St Margarets. Led by experienced duo Daniel Rabbette and Kostas Kuklys, Cardinal Heenan won every match and played the best rugby at the tournament with some great offloading, running and tackling.
Cardinal Heenan started the tournament against the hosts St Margarets and quickly established their dominance with tries by captain Dan Rabbette and the revelation of the day Joe Ball, who despite his inexperience was one of the best players at the tournament on the day. Elliot Welsh, Josh Rowe and Kostas Kuklys also added tries as Heenan ran out 5-1 winners at the end.
Broadgreen 'A' followed and this time Cardinal Heenan were slow out the blocks with Broadgreen's winger scoring an early try, however the boys responded really well with quick scores for Ben O'Keefe, Joel Harley and the always impressive Ellis Smethem. Joe Ball and Dan Rabbette, who also beautifully created the previous try, added further scores to seal the second win.
The next match against Calderstones 'B' began with yet another monstrous try by Joe Ball, created by Ellis Smethem and Anthony Murphy. Further tries by Kostas Kuklys, Dan Rabbette and Ben O'Keefe followed before Calderstones pulled one back with some great running. However, Cardinal Heenan scored the last try of the match as Kostas Kuklys and Sam Hartwell set Joe Ball away to power through and score. Tom Bates, Reece Gardner and Elliot Welsh all made some great tackles to see out the game.
Calderstones 'A' were up next and proved to be the toughest test of the day. Elliot Welsh had a try disallowed and almost straight after Calderstones powered through to make it 1-0. They then managed to halt great runs by Tom Bates, Anthony Murphy, Sam Hartwell and Joe Ball before nearly scoring again themselves, with Reece Gardner and Dan Rabbette doing well to keep them out. After sustained pressure from Cardinal Heenan, great play by Ben O'Keefe and Joel Harley wore down the Calderstones defence and Kostas Kuklys hit a perfect angle to crash over and score and drag Cardinal Heenan back into the game. A good tackle by Josh Rowe won the ball back and on last play Joe Ball powered past their whole side to score and win the game 2-1.
The last game against Broadgreen 'B' started pretty evenly but good tries by Dan Rabbette, Kostas Kuklys and Joe Ball made their heads drop and Heenan ended up running away with it. Ellis Smethem, Sam Hartwell, Elliot Welsh, Ben O'Keefe and Joel Harley all added further tries with bright moments for Tom Bates and Reece Gardner too. Joel Harley being allowed to kick was a particular highlight, his effort that went all of 2 metres highlighting why the kicking should be left to Dan! Josh Rowe, Ben O'Keefe and Sam Hartwell played well with some great tackles in this game.
The trophy was presented to captain Dan Rabbette at the end of the day and all the boys went home with medals round their necks and smiles on their faces. A really good day's rugby which will have really helped the students develop. Mixing the squad around and matching the experienced players with some newcomers to the sport worked really well and the students seemed to really enjoy themselves. The staff were delighted with how the team performed and the effort they put in. Thanks to St Margaret's for hosting and all the other schools who participated for a great day.
Squad (alphabetical order):
Joe Ball, Tom Bates, Reece Garder, Joel Harley, Sam Hartwell, Kostas Kuklys (VC), Anthony Murphy, Ben O'Keefe, Daniel Rabbete (C), Josh Rowe, Ellis Smethem, Elliot Welsh.