Headteacher for a Day!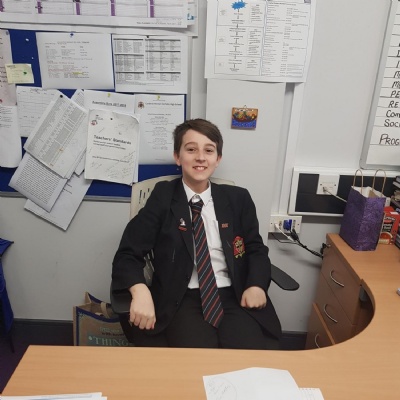 Shaun Winship, Year 7, Took Charge of the School for the Day
Cardinal Heenan Catholic High School saw a change of leader for the day as Shaun Winship won the raffle to he Headteacher for the day. Shaun also had a deputy working alongside him - James Murphy from year 10. Their day consisted in dealing with a range of issues including financial, premises, pastoral and curriculum meetings. Furthermore, towards the end of the day there was even a (staged!) fight between two of our history staff over unmarked books that Shaun and James had to referee!
Ms Smyth, meanwhile, donned a school uniform and attended lessons throughout the day, covering some of Shaun's timetable and some of James'. On the whole, Ms Smyth was a model student, although she was asked to leave her Computer Science lesson for getting out her mobile phone when these are a clearly banned item!
The event has raised money for both Claire House and State of Mind, charities the school are very proud to support.
Head over to the galleries page on the news section to see photographs of the day!