Liverpool Welcomes National Youth Congress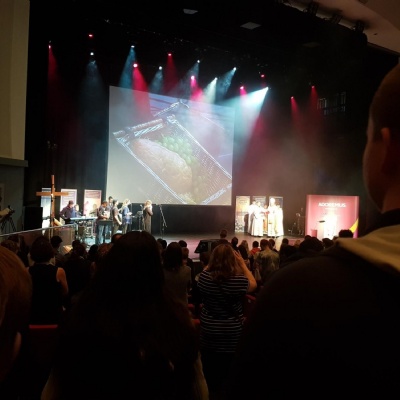 The Echo Arena Auditorium Was the Venue for the Youth Congress
On Saturday 8th September 2018, the city of Liverpool played host to Adoremus – the National Eucharistic Congress. As part of this National Congress, The Adoremus Youth Congress took place at the Auditorium of the Echo Arena in Liverpool and some of our students took part in this amazing event.
The aims of the congress were:
To give young people a positive experience of being a young Catholic today.
To help young people experience how God speaks to them through the celebration of the Eucharist.
To help enable young people to live the Eucharist through witness, proclamation, care for the broken in society and love for the planet.
These aims were certainly fulfilled!
1,000 young people from across the country gathered together and explored the theme, 'I am the Bread of Life.' This was done through talks, workshops, music, praise and worship and at the end the most moving Holy Hour which witnessed young people aged 14 and over kneeling in front of the Blessed Sacrament, sharing their faith together.
Contributions on the day came from Katie Prejean, Jo Boyce, Rise Theatre, Cafod, Animate, Salesians, One Hope, Joel's Bar, Cardinal Nichols, Archbishop McMahon and many more.
The day before this, two of our year 10 students had represented the school at a youth conference as part of the "parallel programme" of Adoremus. They gathered with representatives from schools throughout the Archdiocese to investigate and learn more about what their responsibility is as part of being the Body of Christ and living out their faith.
The whole congress came to a close on Sunday 9th September, finishing with a Eucharistic procession in the City, leaving from the Metropolitan Cathedral of Christ the King. In excess of 10,000 people took part in this, witnessing to their faith and determination to continue being the living bread of Adoremus.
More photographs can be seen on our galleries section.