Warp Trio​​​​​​​ visit Cardinal Heenan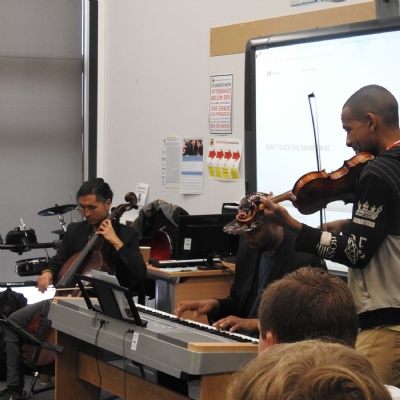 Warp Trio Perform in the Music Department at School
Music students at school had the opportunity to listen to and perform with the American group Warp Trio at the beginning of October.
Described as "A talented group that exemplifies the genre-obliterating direction of contemporary classical music (Columbia Free Times)", Warp Trio is an Internationally touring cross-genre chamber music experience. Reflecting the combination of Juilliard trained members juxtaposed with members steeped in rock and jazz styles, the one of a kind trio (that even has a fourth member!) can be seen performing classical works in prestigious halls on the same tour where they headline a standing room only show at a rock venue. In addition to their electrifying public performances, they have gained a reputation for their innovative educational workshops with students from grade school through university level.
Maintaining a busy performance schedule, Warp has performed hundreds of concerts all across the United States, in addition to tours throughout The United Kingdom, Spain, Switzerland, Holland, Germany, and the Caribbean. Highlights of the past season include headlining performances at The LEM Festival for Experimental Music in Barcelona, the Sold-Out World premiere of their Triple Concerto for Piano Trio and Orchestra with the New York City based Urban Playground Chamber Orchestra, and in addition were the honoured recipients of a New York Foundation for the Arts Grant.
Students from across KS4 and KS5 were not only privileged to listen to the amazing performance of the group but then joined them with their own instruments to create a piece of bespoke music.
Head over to the galleries section of the website for more photographs from the day.