Admissions

Cardinal Heenan Catholic High School is a Catholic School under the trusteeship of the Archdiocese of Liverpool. It is maintained by Liverpool City Council. As a Voluntary Aided School, the Governing Body is the Admissions Authority and is responsible for taking decisions on applications for admissions. The co-ordination of admissions arrangements is undertaken by the Local Authority.
Our published admission number (PAN) is 210 students per year. In the event of receiving more applications than available places the oversubscription criteria will be used. We strongly advise that you check our Admissions policy very carefully to determine which criteria your child is in.
Click here to find Catholic Schools serving your parish
Admissions for a Year 7 Place in 2024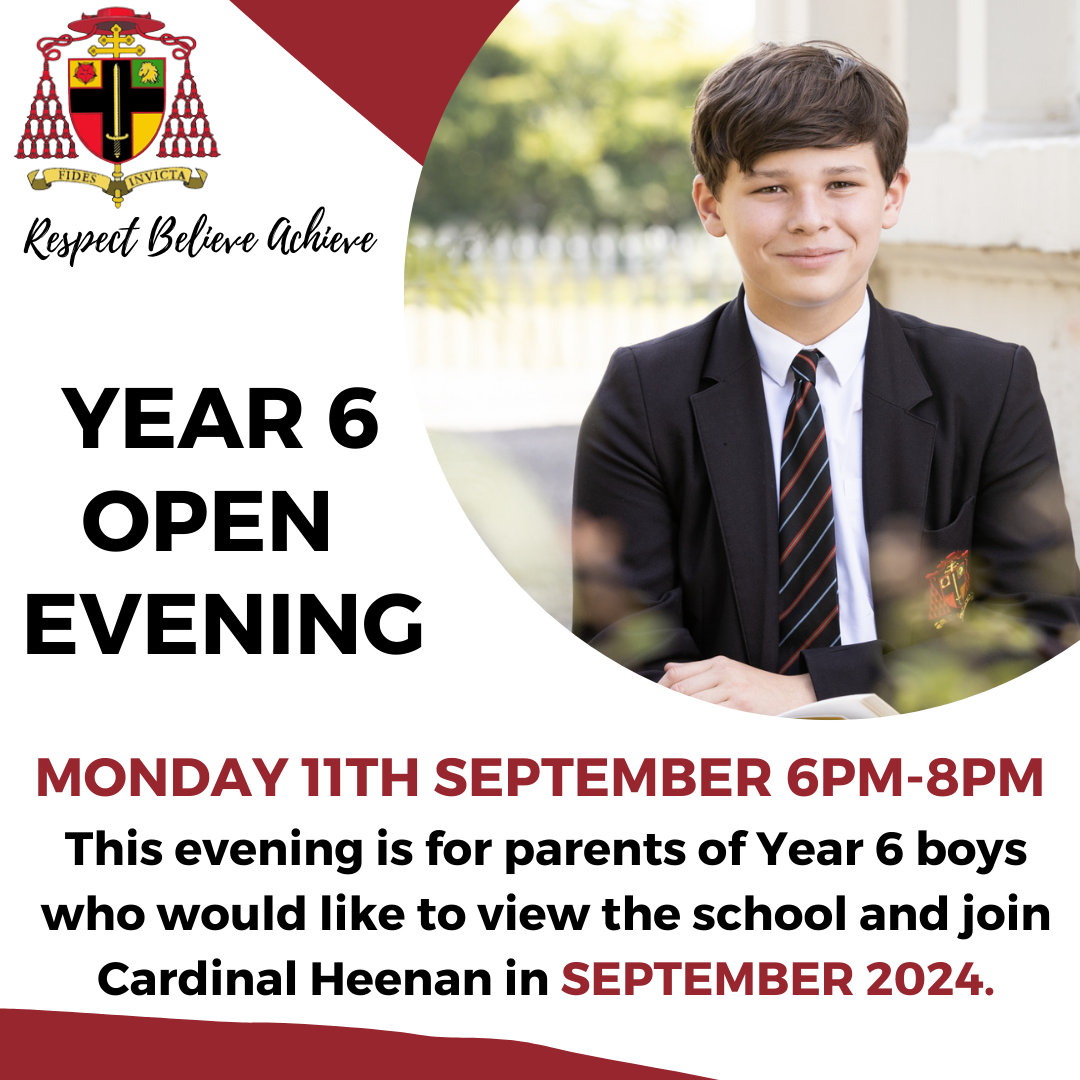 Please take your time to watch this video on the Admission process and to ensure you complete all relevant forms.
If you wish to apply for a place for your child in Year 7 at Cardinal Heenan for September 2024, please find information on how to do so by clicking here.
You can read the Admissions Policy for 2023/24 below.
You should complete our supplementary form below and return this directly to the school. If you are unable to respond via email please print off and return to the office. Alternatively contact Mrs Mitton (Clerk to the Admissions Committee) by phone on 0151 235 1430.
Please ensure that you provide proof of address and proof of religion if you wish to be considered under the faith criteria.
You can find more general information about the process for Secondary School admissions from the council of the authority where you are resident:
Key Dates for 2024 Year 7 Admissions
September 2023 - Open Evening - Monday 11th September 6-8pm for Year 6 pupils and parents
31 October 2023 - Deadline for Year 6 applications to LA and supplementary forms to the school
1 March 2024 - All allocations announced on National Offer Day
May/ June/ July 2024 - Appeals held (further details available in due course)
July 2024 - Induction Day (tbc) for all Year 6 pupils starting with us in September.
In-Year Admissions 2023/24
For applications during 2023/24, please check our Admissions Policy for 2023/24 at the bottom of this page.
If you are hoping to move your child from one secondary school to another within Liverpool please contact your child's existing school to instigate an In Year Transfer. They will use the following procedure:
Is it another Liverpool school? Applications to transfer schools within the local authority area must now be lodged with the school your son currently attends. You will be asked to sign the In Year Transfer request. The school will communicate with the school you wish to apply for and they will communicate if the school has places available or not.
Is it a Knowsley/Sefton school? You need to approach the council's Admissions Team and they will advise you how to proceed.
If your child is new to the city and you'd like them to transfer from a school in another authority to a school in Liverpool, please apply online here.
More information about In Year school transfers can be found here via Liverpool City Council's website.
Appeals
The Archdiocese has some information about appeals on their website which you may find useful:
Sixth Form policy
Sixth Form Admissions are dealt with by the school.
How to Apply
The following entry requirements for admission to Cardinal Heenan Catholic High School's Sixth Form have been agreed to and are upheld by our governing body:
Current Students
Year 11 students at Cardinal Heenan Catholic High School will be given priority. However, they are still required to apply for a place via an expression of interest and a pre-admission meeting. They will only be admitted in September providing the necessary entry requirements are met (please see below).
External Students
Applications from students currently attending other schools are welcome and we allocate approximately 30 places each year to new students looking to join Cardinal Heenan. Applicants must first fill out the online form above to provide the school with basic information about your application. The student and parents will then be invited to make an appointment to have a tour of the school and meet with members of the sixth form team.
Entry Requirements
The entry requirements are the same for all applicants to our sixth form. Students need to have ached at least three grade 5's at GCSE level, and have an average grade of at least 4.5. Students would also need to have met the entry requirements of individual subjects on the Sixth Form Collaborative Options Form
Over Subscription Criteria
Where the number of external applications exceeds the number of places available, the school's governing body will take into account a number of different factors when determining individual applications. These include:
Whether the applicant is a Looked After Child
Whether they have a sibling at the school (this includes full, half or stepbrothers, adopted and foster brothers who are living at the same address and are part of the same family unit)
Whether they or their siblings attend a partner school
In the event of any over-subscription in the number of applications made under any of the categories above, then places will be offered first to those living nearest to the school premises.
Please note: Extra students can sometimes be accommodated over the admission number if the chosen course of study is not full.
In-Year Admissions
Students are generally admitted to our sixth form at the start of the autumn term. However, there may be a small number of occasions when students are able to transfer or join us mid-year.
Appeals
Any student refused the offer of a place in the Sixth Form has the right of appeal to an independent appeals panel. Please contact the school office for further information.
False Information
Where the school has made the offer of a place in the Sixth Form on the basis of a fraudulent or intentionally misleading application, which has effectively denied a place in the Sixth Form to a student with a stronger claim, the offer of a place will be withdrawn.
Consultation on Proposed Changes to School Admissions Policies September 2024
Below is the documentation relating to the consultation on proposed changes to our school admissions policy.
The link to the consultations page on the Archdiocese website is www.liverpoolcatholic.org.uk/department/education/admissions-and-appeals
Any comments on the proposals should be sent to the Chair of Governors, at the school address, and to the Archdiocese of Liverpool.